In Switzerland, you have to pay wealth taxes and income taxes on your investment. While you have to pay wealth taxes on your whole account, you only have to pay income taxes on dividends. You can watch the video or read the article below in order to see step by step how to declare your Inyova portfolio when filling your tax declaration.
Download your Inyova report
This article shows you where to find the report. It is important for you to know that the second page contains all the information you need. Here you can find more information about the other pages of the report. Additionally, you only need to fill in the grouped values of your Inyova deposit and not the values of every single stock.
Can you use eTax or not?
eTax allows you to simply upload your Inyova tax report in order to declare your deposit. However, this is not possible in every Swiss canton. In the following image you can see in green which cantons have eTax enabled.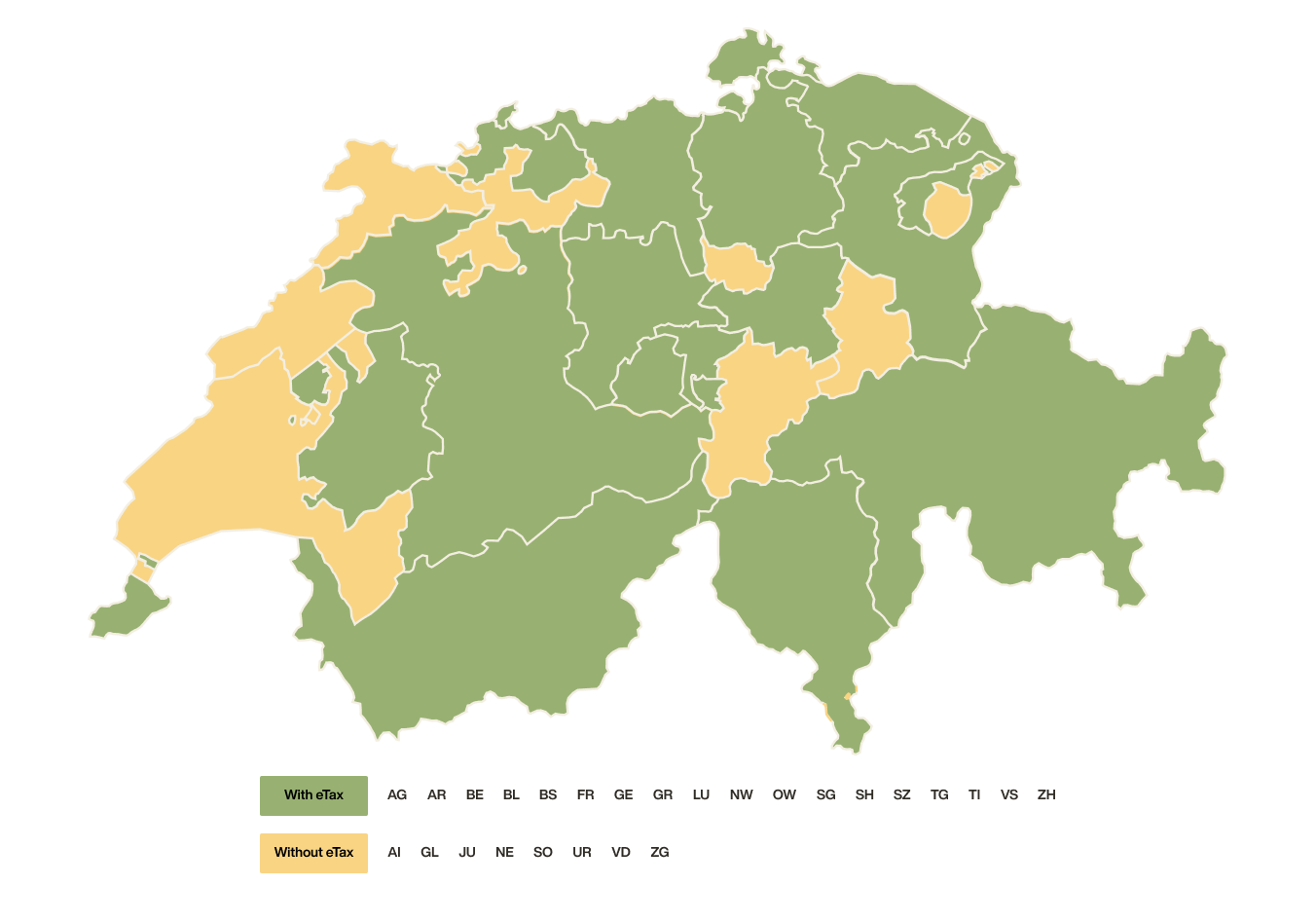 You can use eTax
Go to the "Wertschriften" section of your tax declaration. If your canton has eTax enabled, you can simply upload the Inyova tax report as part of your eTax declaration. Be aware that only the cantons in green allow this option.
You cannot use eTax
As your tax declaration might be in German or French, here are the titles you will be looking for. Please be aware that the wording might differ from canton to canton.
Securities list: 'Wertschriftenverzeichnis' or 'état des titres'

Deposit/Tax directory: 'Dépôt/Steuerverzeichnis' or 'dépôt/répertoire fiscal'
Go to the 'Securities' section of your tax declaration. First enter your account information. You can find your IBAN on the third page, and the account number on the upper left part of the fourth page. If you have kids accounts, your tax report is aggregated for all accounts, you only need to declare the IBAN and account number of the main account.
On the second page of your Inyova tax declaration, you will see three lines. You can simply use the third line. Insert it in your "securities list" under the category "Deposit/Tax directory".
You are finished with declaring your Inyova portfolio!